You can enable the Face ID login feature from the app settings. Once enabled, you can sign in to Mailroom using biometric authentication instead of typing in your credentials.
To enable Face ID, follow the steps provided below:
Step 1: Go to the app settings.






Step 2: Tap on 'Security'.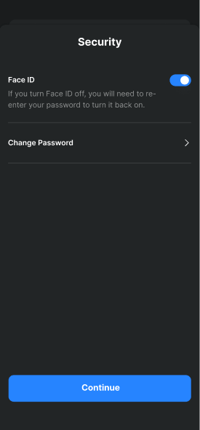 Step 3: Enable the toggle

for Face ID.

Step 4: Tap on 'Continue' to save.


Note: The face ID feature is available on iPhone X and later iPhone series.
In case of any difficulty, reach out to us at support@packagex.io and we will be glad to assist you.