Recipients can come and pick up their items after they have been notified.
To mark an item as picked up, follow the steps provided below:
Step
1
: On the pickup section of the app, tap on the recipient whose items need to be checked out.

Step 2
: Tap on 'Select' to choose items that need to be marked as picked.

Step 3
: Tap on 'Pickup'.

Step 4
: On the 'Collect Signature' screen, take the recipient's signature. You can also take a picture of the recipient by tapping on the camera icon at the bottom right.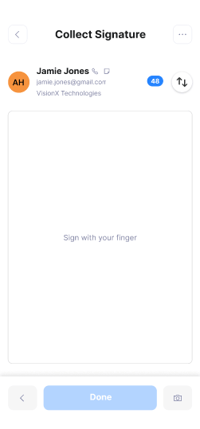 Step 5
: Once the signature is taken, tap on 'Done' to finish checking out the item.
Note: If you wish to assign the item to a different recipient, tap on the arrow icon next to the recipient's name to select another recipient for the item.
In case of any difficulty, reach out to us at support@packagex.io and we will be glad to assist you.